VIP

software is a powerful yet easy to operate modular asset management system with the ability to manage your assets from initial purchase through to final disposal. The Stock Module (which like all other optional modules links into the Core Module) is featured on this page.

Stock Module Features

The VIP Stock Control Module allows users to track stock as well as allowing the user to know where stock is located and the quantity, this module will also keep track of how, when and what quantity of stock is used for what purposes. The module allows the user to maintain optimum stock levels (not too high not too low) as well as a complete history of pricing changes.
It provides the user with:
Stock Code, Product Barcode & Serial Number
Brand/Model details
Product Type & Stock Type
Supplier & Alternative Supplier
Supplier Lead Time
Lowest & Highest purchase price
Maximum & Minimum Quantity on Hand
Where Stock is Located
How Stock is consumed
Quantity On Hand (total) & Quantity on Hand at Location
Reorder Point & Standard Reorder Quantity
Restricted Goods
Shelf Life
Warranty Period
Images, Instructions, or other associated documents may also be stored within the stock record in the VIP Stock Module
Full audit trails of all transactions
Above: VIP offer the latest handheld barcode readers from Symbol for use with the Stock module. Their touch screen control and graphical user interface makes them very user friendly, allowing you to audit your stock quickly and with complete ease. Click to enlarge.

Easy-to-use portable barcode scanners

VIP offers handheld barcode scanners running the highly popular Palm operating system. This has allowed us to develop the incredibly user-friendly, graphical program enabling your staff to audit stock quantities at any given location quickly, efficiently and with complete ease.
Standard location descriptions can be downloaded to the Palm for selection as "picklists" when capturing or auditing data - ensuring consistency of data gathered and eliminating potential sources of error.
The THe software is also used for barcode asset auditing, so it is possible for one person to audit both assets and stock at a given location in the one single process.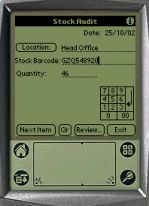 Above: Sample screen from the Palm based barcode scanner. Click to enlarge.

Reports

Reports specific to asset auditing may be run from the Barcode Module. Standard reports include:
pre-formatted reports (stock on hand, items consumed, etc)
custom report writer tool (create your own reports with ease!)
multiple selection & report sorting
report generation to various outputs - printer, screen, file, email

Fully integrated with other VIP modules!

A key benefit of the VIP system in general is the smooth flow of relevant information between related modules. The Stock Module is no exception, with seamless links to:
VIP Barcode Module
Use the Symbol Palm the user is able to carry out stock audits
Stock item quantity at that location will be updated and an audit trail of any up/down discrepancy will be kept
Online barcode wedge will allow the user to issue/transfer stock to any of the following, Location, Cost Center , Person, Work Order or Help Desk Problem
VIP Purchasing Module
When stock is part of the purchase order, the user will be asked upon receipt of the goods (and the stock module updated) with details of product type, quantity, and where it is being allocated to
The user can indicate which Stock items are to be automatically reordered when a certain reorder point is reached - a Purchase Order will automatically be produced ready for approval.
VIP Maintenance Module
In the actions area of each work order record the user can specify the stock item and quantity used to solve the particular problem, with the appropriate quantity of units being deducted from stock on hand.
Standard task types can include details of stock required, allowing forecasting of future consumption
A full audit trail is maintained in VIP for all types of stock transactions, from initial purchase order to final consumption. This is almost impossible to achieve with a mix of systems from different vendors.
Above: VIP 's Help Desk and Maintenance Modules allow the user to record usage of parts from stock in repair or maintenance actions, with usage faithfully recorded for automatic reorder able to be triggered as supplies run low.
Above: New purchases of stock may be handled using the VIP Purchasing Module, providing the user with all the benefits of that module including comprehensive budgeting, invoicing and delivery recording capabilities. Click to enlarge.